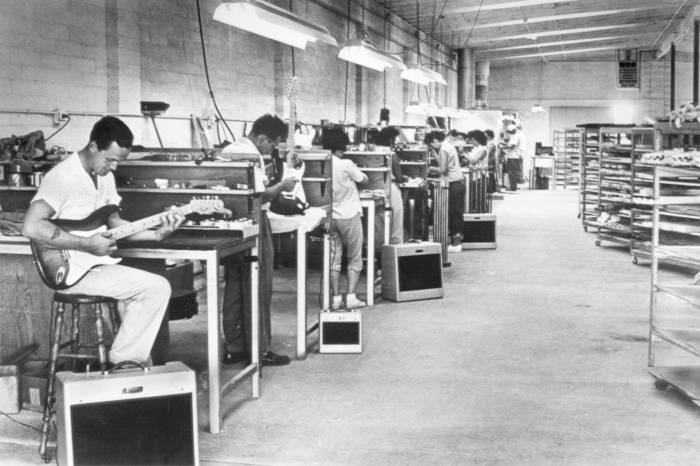 The Stratocaster is the quintessential electric guitar—a worldwide archetype; the basic form that leaps to mind at the very mention of the phrase "electric guitar", even among those who don't play. Maybe that's because it was so well designed to begin with that it has existed largely unchanged for more than 60 years now, allowing it to become an ingrained design in the minds of successive generations.
As Keith Richards once said, "The Strat is as sturdy and strong as a mule, yet it has the elegance of a racehorse. It's got everything you need, and that's rare to find in anything."
Below, an overview of seven popular Stratocaster models featuring the classic three single-coil setup, along with a rundown of each that highlights their unique properties. It's everything you need to know to make an informed decision about your own entrance into the Strat story:
FIRST, A SHORT HISTORY OF THE STRATOCASTER
Ubiquitous and essential, the Stratocaster has transcended its original intended purpose as a tool (a stylish one, at that) to become an archetype. It has risen above its everyday function to become a cultural symbol for creativity, individuality, artistry and more than a little exuberant rebelliousness. Been that way for quite a while now.
But it's not like Leo Fender was trying to be radical and revolutionary. A practical person, he just wanted to build a better guitar. He and his closest staff spent long hours developing and perfecting the new model, which quickly shaped up to be its own instrument rather than an improved version of Fender's earlier invention, the Telecaster.
The new guitar certainly owed several design elements to its predecessor, though, and as late as early 1953 its body shape closely resembled that of the Telecaster. In spring of that year, however, new Fender arrival Freddy Tavares sketched out a body shape that sleekly adapted Leo's balanced two-horned shape for the Precision Bass. The new guitar thus combined features of Fender's first two instruments of the 1950s, and in another important development in early 1953, Fender sales chief Don Randall came up with a name for it: the Stratocaster.
The instrument was a marked step up in design and innovation for Fender. It had not one or two but three pickups, with switching and controls that created great tonal versatility (although, curiously, the switching configuration at the time allowed only three of several possible pickup combinations)
The development of the Stratocaster also saw the inclusion of single-coil alnico 3 pickups with staggered-height pole pieces that effectively addressed the varying output of the heavy string gauges in use at the time, and a slanting output jack mounted on the face of the guitar rather than the side. The guitar's distinctively shaped headstock—more fully curvaceous than that of the Telecaster and Precision Bass—was undoubtedly influenced by instruments built by Paul Bigsby and, like the Telecaster and Precision Bass before it, had all the tuners within easy reach on one side. And a notably elegant touch in Fender's first use of a sunburst finish, which was included at Randall's insistence to give the guitar a more high-end look.
The Stratocaster's greatest innovation, however, was its bridge. In response to player feedback on the Telecaster, Randall wanted the new guitar to have some kind of vibrato system. Leo immersed himself in the task with his customary focus.
And yet the initial design for the Stratocaster's vibrato bridge was a pronounced failure. Leo and guitarist/advisor Bill Carson apparently thought prototype units sounded fine at the factory, but Leo's right-hand man in the factory, George Fullerton, said they "sounded terrible." Leo invested a great deal of time and money into trying to perfect the system well into 1953 before scrapping the entire design and starting over.
The Stratocaster's second vibrato system was so effectively "over designed" that it proved capable of far more than its designer intended or imagined. Leo and his staff envisioned a steel guitar-like sound with only very slight pitch changes, but his design actually enabled a pitch span of up to three half steps or more. Simply put, it was better than it needed to be, and within a decade or so players would be using it to create swooping, dive-bombing sounds never envisioned at Fender headquarters.
Despite all these innovations Fender's second electric guitar model patiently bided its time through the seemingly glacial-paced shift away from hollow-body instruments, '50s rock and roll, early '60s surf and instrumental rock, and the British Invasion, enjoying some notable moments but never taking off as its creators had hoped it would.
A truly historic moment in the Strat story—and rock history in general—came with Bob Dylan's appearance at the Newport Folk Festival on July 25, 1965. An audience of folk purists was shocked when Dylan took the stage in an orange shirt and dark leather jacket, playing a Stratocaster and backed by an electric band. The set was supposed to last an hour, but Dylan only made it through "Maggie's Farm" and "Like a Rolling Stone" before booing forced him from the stage. He returned minutes later for a solo acoustic set, but Dylan's move from acoustic troubadour to full-on electric rock star marked a major turning point in rock music.
By the late 1960s the Stratocaster finally achieved top-tier status, largely thanks to the meteoric ascent of Jimi Hendrix, whose preference for the instrument led legions of established and up-and-coming guitarists to finally "discover" the Strat. (It could be argued convincingly that the 1960s truly ended with the last fading notes of Hendrix's Stratocaster at Woodstock in the morning hours of Monday, Aug. 18, 1969.)
By the mid 1970s, the Stratocaster was everywhere. The early years of that decade saw a phenomenal rise in the guitar's popularity, with some of rock's greatest guitarists becoming ardent Strat players—names including David Gilmour, Jeff Beck, Eric Clapton, George Harrison, Robin Trower, Ritchie Blackmore and Rory Gallagher. The first half of the decade thus saw a marked proliferation of truly phenomenal rock music built on the sound of the Stratocaster in the hands of some of the greatest musicians ever to play it—including Layla and Other Assorted Love Songs (Derek and the Dominos, 1970), All Things Must Pass (George Harrison, 1970), Machine Head(Deep Purple, 1972), The Dark Side of the Moon (Pink Floyd, 1973), Irish Tour '74 (Rory Gallagher, 1974), Bridge of Sighs (Robin Trower, 1974), Blow by Blow (Jeff Beck, 1975) and a great deal more.
But by 1980 the Stratocaster no longer had to prove itself. It had reached a lofty level of indispensability that other Fender instruments had long before ascended to more quickly, but its place was nonetheless assured. More guitarists than ever were playing Strats, from greats who'd already earned much acclaim in previous decades to talented new faces who either continued established traditions or defined bold new roles for the instrument. Rock music had torn itself down and reinvented itself a few times by the end of the decade, and with each fascinating reinvention, the Stratocaster remained a preferred instrument with an innate and uncanny relevance that somehow made it continually right for anything musicians could think of. No other instrument had ever done that; no other instrument was like that.
The 1980s would prove to be a transformative decade for Fender and by the dawn of the 1990s, if any one instrument embodied Fender itself, it was the Stratocaster. The instrument was everywhere. Everybody played one, or had played one at some point. It had become an archetypal form by then; a silhouette that leapt to mind immediately on the mention of the term electric guitar. In the time-honored Fender instrument lineup, the Stratocaster had become the Fender instrument as 1989 ticked over to 1990.
And as the millennium approached the guitar's overall look had changed hardly at all, yet it had fueled music that changed dramatically with each successive generation of artists, who found it a consistently versatile, indispensable and relevant instrument. On the eve of the year 2000, the future of the Stratocaster looked brighter than ever.
Many of the great artists who'd adopted it in the previous decades continued to create marvelous music with it—players including Eric Clapton, Jeff Beck, David Gilmour, Buddy Guy, John Frusciante and numerous others. The instrument spanned decades and genres as an uncannily versatile and relevant electric guitar; chosen time and again by successive generations of new players. It remained the choice of seasoned professionals and eager newcomers alike, its sleek form and pure sound continually attractive to players everywhere at all levels.
All the while, as always, the Stratocaster continued to find its way into new hands. Bands that had either formed in the 2000s or came to prominence post-2000 continued to embrace the instrument. Stratocaster players in this most recent class included Alex Turner (Arctic Monkeys), Brendon Urie (Panic! at the Disco) and Albert Hammond Jr. (Strokes), among many others.
The Stratocaster looked like the future when Buddy Holly played one on The Ed Sullivan Show in 1957. A decade later, when Jimi Hendrix so memorably played one at the Monterey Pop Festival in 1967, it still looked like the future—even more so, perhaps. A decade after that, when rock was busy tearing itself down and reinventing itself in particularly aggressive fashion in 1977, the Strat was right there in the midst of it. Ten years later, in 1987, when Fender itself was coming through a bold self-reinvention, the newly revitalized Stratocaster stood at the top of the line, still very much the future. By another decade later, in 1997, youthful new Strat heroes had emerged, and 10 years after that, in 2007, one Strat had fetched nearly $3 million at auction while another had been carried more than 17,000 feet up Mount Everest.
People everywhere certainly do love their Stratocasters. The instrument wears its 60-plus years well. It still sounds fantastic. It still feels phenomenal. And it still looks like the future.
WHO PLAYS STRATOCASTERS
Buddy Holly

Jimi Hendrix

Eric Clapton

Robbie Robertson (the Band)

Bob Dylan

George Harrison

Buddy Guy

Pete Townshend

Jeff Beck

Dick Dale

David Gilmour

Rory Gallagher

Ritchie Blackmore

Robin Trower (Procul Harum)

Alex Lifeson (Rush)

Eddie Hazel (Funkadelic)

Mark Knopfler (Dire Straits)

Eric Johnson

Stevie Ray Vaughan

Jimmie Vaughan

Bonnie Raitt

Dave Murray (Iron Maiden)

Robert Cray

Yngwie Malmsteen

Nile Rodgers (Chic, David Bowie)

The Edge

Billy Corgan (Smashing Pumpkins)

John Frusciante

Kenny Wayne Shepherd

Alex Turner (Arctic Monkeys)

Albert Hammond, Jr. (the Strokes)

John Mayer

Jim Root (Slipknot)

Gary Clark Jr.
Modern Stratocaster bodies are still made of the same woods the originals were made from over 60 years ago: alder and ash. Most contemporary Strats are alder, while the Strats featured in the Deluxe range feature ash bodies.
Alder
The alder used in most Fender guitars boasts many sonic advantages. Not especially dense, it's a lightweight, closed-pore wood that has a resonant, balanced tone brighter than other hardwoods, with a little more emphasis in the upper midrange. It imparts excellent sustain and sharp attack.
Ash
Ash can be difficult to work with. The pores must be filled before finishes are applied, and two swamp ash guitar bodies are more likely to differ from one another tonally than two bodies made of alder, which has a tighter, more consistent grain. Ash imparts articulation and presence with a great balance between brightness and warmth, and it looks great.
This is one place where each of the seven Strat models compared here differ from one another, though most are 25.5" scale with a 9.5" fingerboard radius, 22 frets and some variation on a "C"-shaped neck.
Neck Shape
Fender offers guitars with a handful of different neck profiles, but the guitars included here feature variations on the classic "C"-shaped neck, which has a more rounded profile than the pointed "V" or flatter "U" style.

The Standard, Deluxe and American Special models feature Modern "C" necks, which are slightly thinner than the classic "C" neck or Mid-'60s "C" profiles found on the Classic Series '60s Stratocaster and the American Vintage '65 Stratocaster respectively.

The American Professional features a newer, Modern "Deep C" neck, which is slightly thicker than a Modern "C".

The American Elite offers the only compound-radius neck among the models featured here with a Modern "C"-to-"D" neck, which means that the neck is thinner at the nut and gets thicker towards the body joint.
FINGERBOARD RADIUS
The fingerboard radius is the measure of the arc of the fingerboard across its width. The Deluxe models features the flattest fingerboard with a radius of 12", while the Classic Series '60s Stratocaster and the American Vintage '65 Stratocaster feature the roundest fingerboard with a radius at 7.25".
The American Elite is the only guitar listed here to include a 9.5"-to-14" compound-radius neck.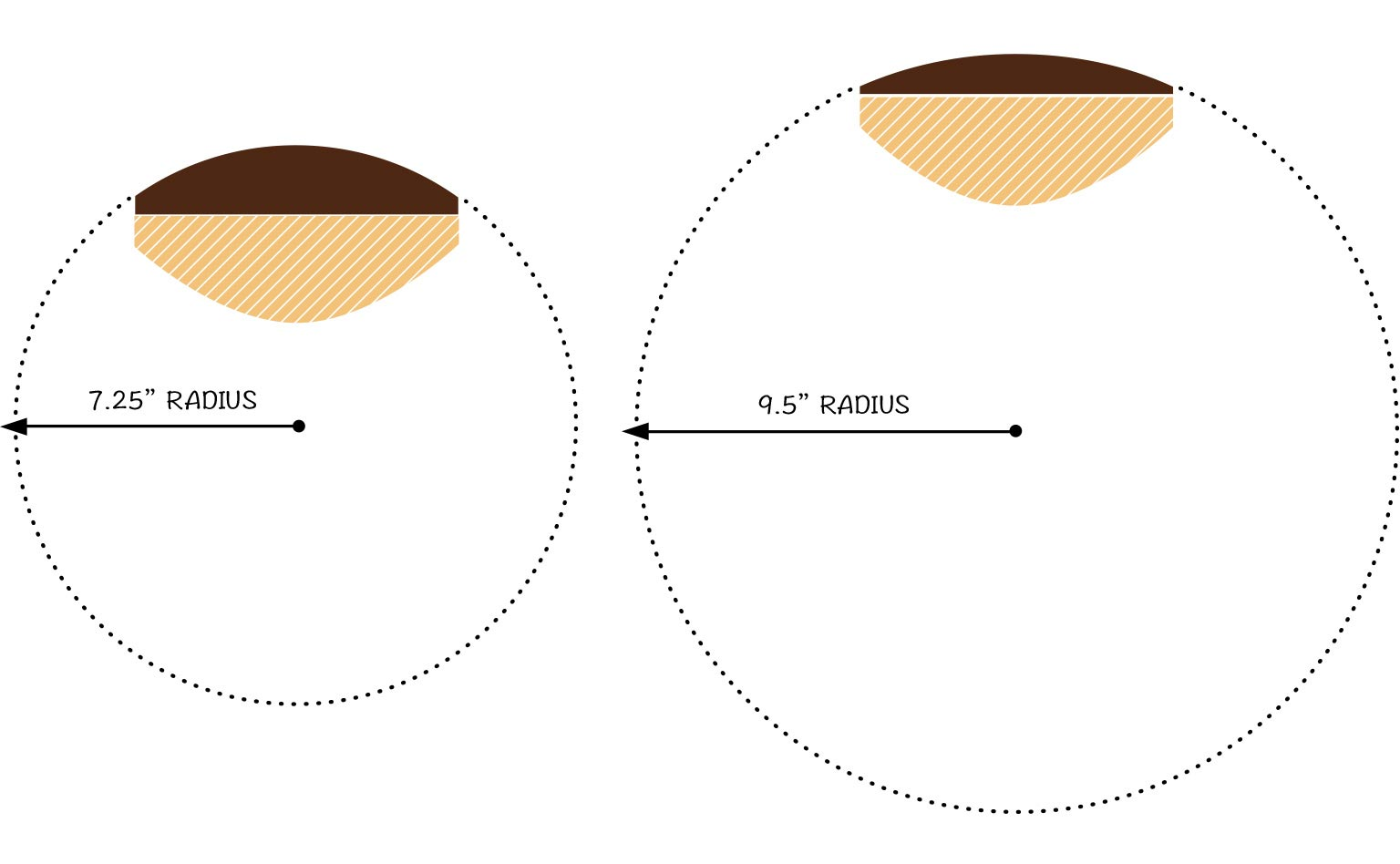 FRET SIZES
Fret size refers to the actual fret wire used to create the frets. If you like your fingers to actually touch the fingerboard when fretting the strings medium jumbo or vintage frets are likely for you. On the other hand, jumbo fret wire can provide easier playability with better sustain, tone and bending because you don't have to press as hard to fret the strings, but your fingers probably won't even touch the fingerboard, which could take some getting used to if you're accustomed to smaller frets.
The Deluxe and the American Professional feature narrow tall frets—currently very popular with players

The Classic Series '60s Stratocaster and the American Vintage '65 Stratocaster feature vintage-style frets

The Standard and Elite models feature medium jumbo frets

The American Special Strat features jumbo frets




"HOW MANY FRETS ARE ON A STRATOCASTER?"
The answer for every model here is either 21 or 22. The American Vintage '65 Stratocaster, the Standard Stratocaster and the Classic Series '60s Stratocaster all feature 21 frets. All other models feature 22 frets.
MAPLE OR ROSEWOOD FINGERBOARD?
The Standard Strat, American Professional and American Elite models are available with maple fingerboards or, for a small additional cost, rosewood.
The Deluxe, Classic Series '60s and the American Vintage '65 models are only available with rosewood fingerboards.
The American Special Strat is available with both a maple an rosewood for the 2-Color Sunburst model, maple-only for the Olympic White model and rosewood-only for the Sonic Blue.
A TALE OF TWO STRATOCASTER HEADSTOCKS

Alone among Fender's guitars, the Stratocaster actually has two headstock options: the smaller, streamlined headstock (seen at left) and the larger, CBS-era headstocks (at right). Why? It's simple, really. The Columbia Broadcasting Company—yes, that CBS—owned Fender for two decades from early 1965 to 1985. One of CBS's first changes to Fender instrument design was the introduction of a larger headstock. Why? To accomodate a larger logo decal, of course.
Some people prefer the smaller headstock, which was introduced in 1954 and mostly solidified by 1957. Others prefer the larger, which was introduced in December 1965. It's really just a matter of personal taste.
If you prefer the larger headstock you can find it on the American Special and the Deluxe Strat models.

All Strats featured here have the classic five-way selector switch, but that's just for starters.
Each offer a unique set of pickups and some feature additional electronics to help you further find your unique tone, such as the S-1 Switch on the American Elites, the Treble Bleed Circuit found on the American Professionals and the Push/Push Mini-Switch found on the Deluxe Strats.
STRATOCASTER TREMOLO SYSTEMS
Arguably the most important invention found on the first Strat models, the synchronized tremolo system has gone through many innovations and iterations over the years, some of those changes define the difference between the instruments compared here.
The Standard Stratocaster comes equipped with the same 6-Saddle Vintage-Style Synchronized Tremolo found on Strats released in the '50s and '60s, while the American Elite Stratocaster features a more modern take in the 2-Point Deluxe Synchronized Tremolo.
Also, the American Elite and American Professional models both feature "Pop-In" Tremolo Arms, which has a more stable, set-screw system than the traditional screw-in tremolo arm.
HOW MUCH DOES A STRATOCASTER WEIGH?
This is a frequently asked question about Strats, probably because the answer isn't perfectly straightforward.
Due to variations in the density of wood and the structure of various components, no two Stratocasters—even from the same series—are likely to weigh exactly the same. And no two Strats from the same series that weigh the same may not sound the same.
That said, almost all of the Strats featured here fall somewhere between seven and nine pounds, with the majority in the meaty middle of that range. People with smaller builds may prefer an instrument on the lighter side, while a lighter guitar doesn't feel substantial enough for others.
But it's actually more complicated than simply weighing the instrument, as Fender's Chief Product Strategist, Richard McDonald, explains:
"There is a subjective element with weight that involves tone as well. Sustain, decay, harmonic complexity, attack ... all these player-centric elements are variables based on wood density. These differences are minimal for some players and very important to others. That's part of what makes finding your guitar so cool. You find the one that's right for you."
HOW MUCH DOES A NEW STRATOCASTER COST?
While all Fender guitars are held to an extremely high standard of quality for component parts, fit and finish, some models include advanced features that can make the cost jump.
Of the seven models featured here, the Standard Stratocaster is Fender's entry level Strat and can be had for under $600. The highest-priced model included, the American Vintage '65 Stratocaster, at $2,350, carries a higher price tag as an original-era model year guitar built with meticulous attention to accurate detail, from the American Vintage '65 Gray-Bottom Single-Coil Pickups to the flash-coat lacquer finish.
Features like a rosewood fingerboard or innovations like the pop-in tremolo arm or locking tuning pegs will also make the cost of any instrument rise.
WHAT ABOUT LEFT-HANDED STRAT MODELS?
Woe to the southpaw player. Always searching for guitars only to find that left-handed options aren't available. Lucky for the lefties Fender is paying attention, and offers a number of SSS Stratocaster options:
STANDARD STRATOCASTER
For guitarists everywhere who appreciate great style, rich and versatile tone, and excellent value, the Standard Stratocaster is an elegant and affordable classic with a great combination of traditional design and contemporary features. Time-honored Fender style and performance-minded modern upgrades don't have to break the bank, and this model delivers the best of both in an instrument ideal for Stratocaster players everywhere at every level.
Standard Single-Coil Strat Pickups

Modern "C" Neck (Available with Maple or Rosewood Fingerboard)

21 Medium Jumbo Frets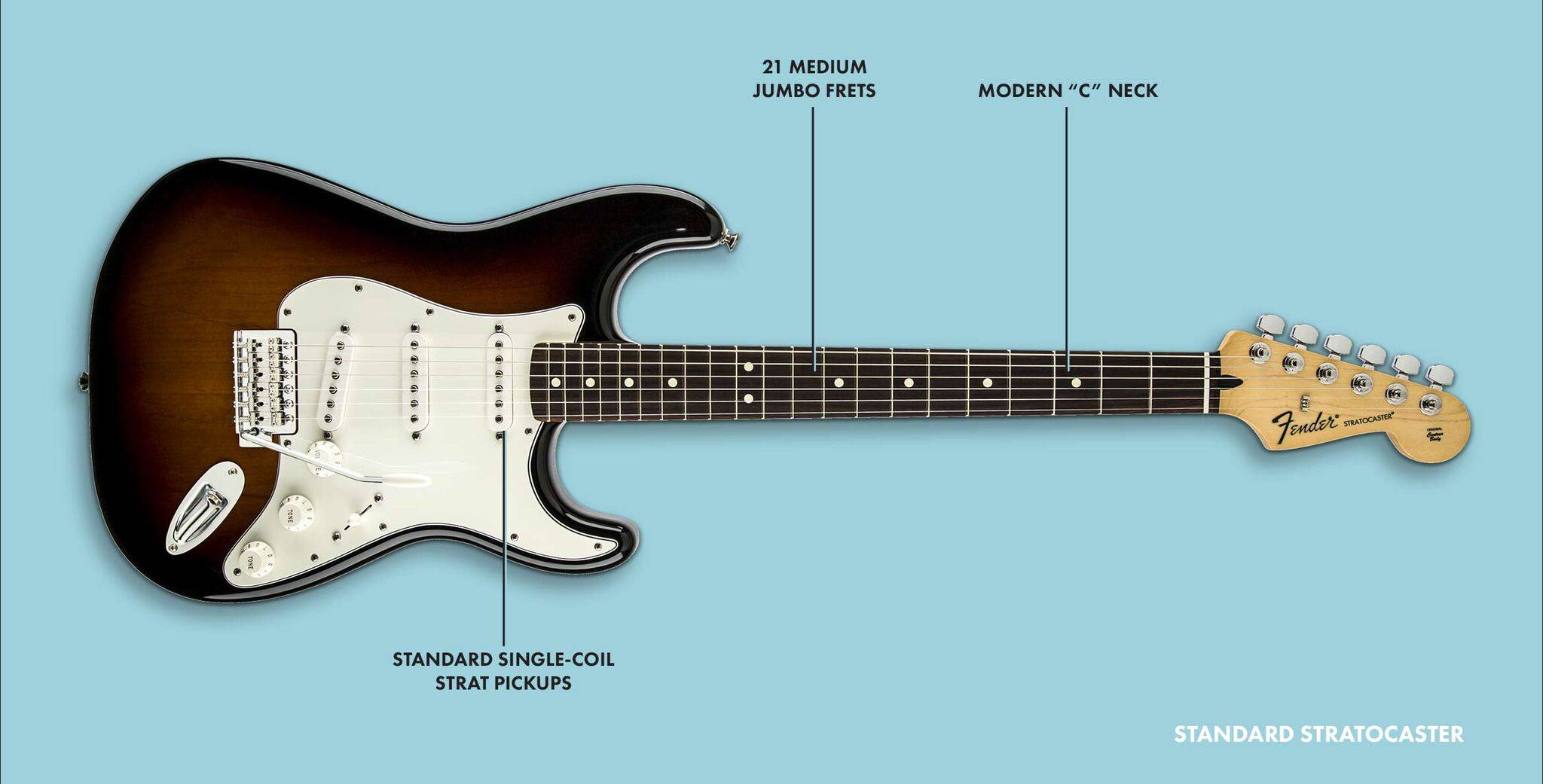 DELUXE STRATOCASTER
A tonally versatile guitar with time-honored Fender style and sound, the Deluxe Strat has a few tricks up its sleeve. Special switching unlocks extra pickup combinations for those moments you find yourself needing a little extra kick to stand out. Combining noise-free performance with enhanced playing comfort, this sleek instrument is a truly deluxe performer that excels on stage and in the studio.
Vintage Noiseless Strat pickups

12" Fingerboard Radius

Push/Push Mini-Switch

Two-Point Tremolo Bridge with Vintage-Style Bent Steel Saddles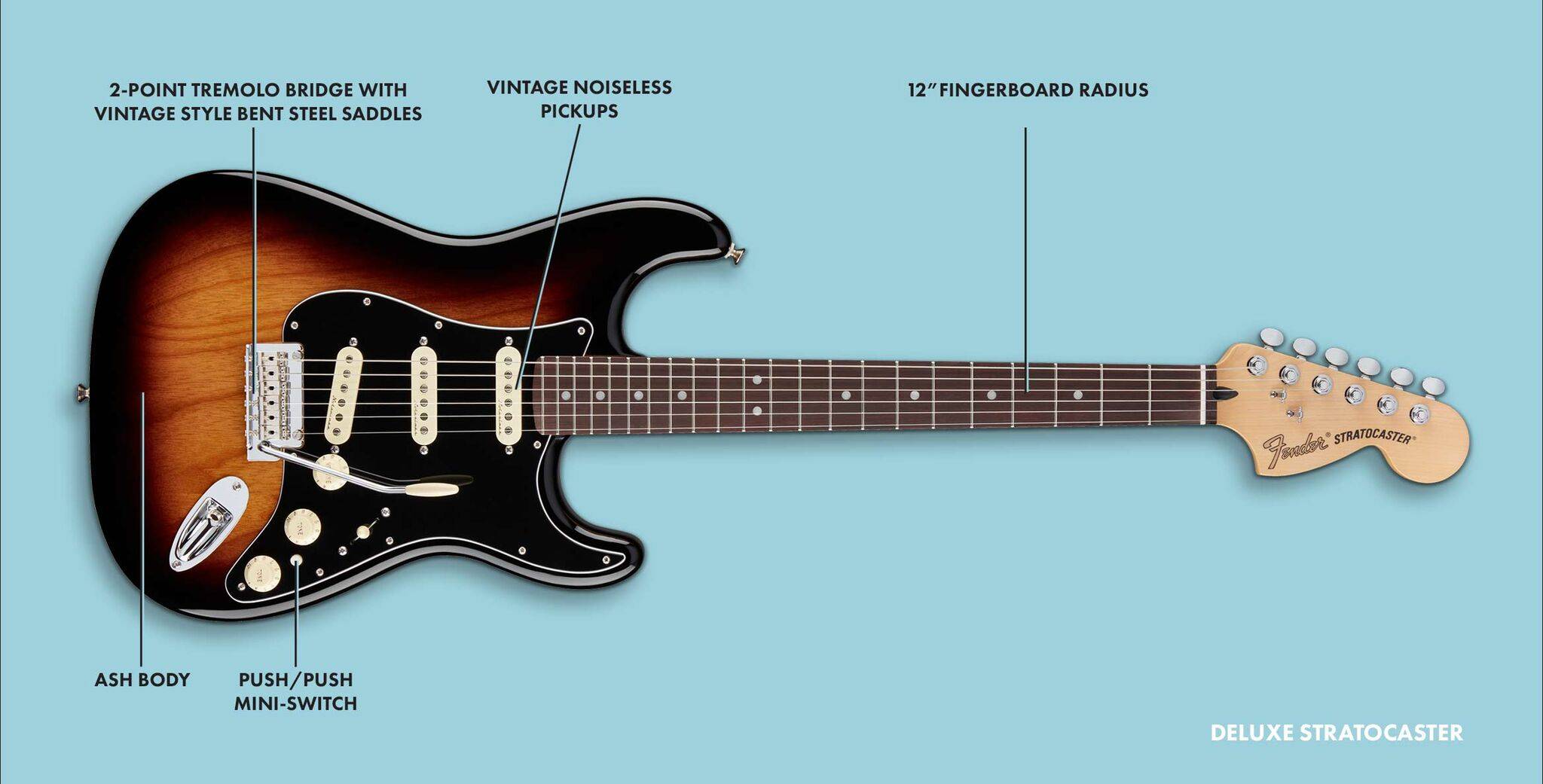 CLASSIC SERIES '60S STRATOCASTER
For guitarists who must have original-era Strat sound, look and feel, the Classic Series '60s Stratocaster epitomizes the instrument during its second decade, when musicians used it to conjure and create electrifying sounds never before imagined or experienced. With its authentic features and finishes, everything about it takes you back to a wildly creative time when rock music came into its own—from surf to psychedelia and more—and players started to discover in earnest just what a phenomenal instrument the Stratocaster really was.
Vintage-Style Single-Coil Strat Pickups

7.25" Maple "C" Neck Profile With Rosewood Fingerboard

21 Vintage-Style Frets

Aged Control Knobs

Vintage-Style Tuning Pegs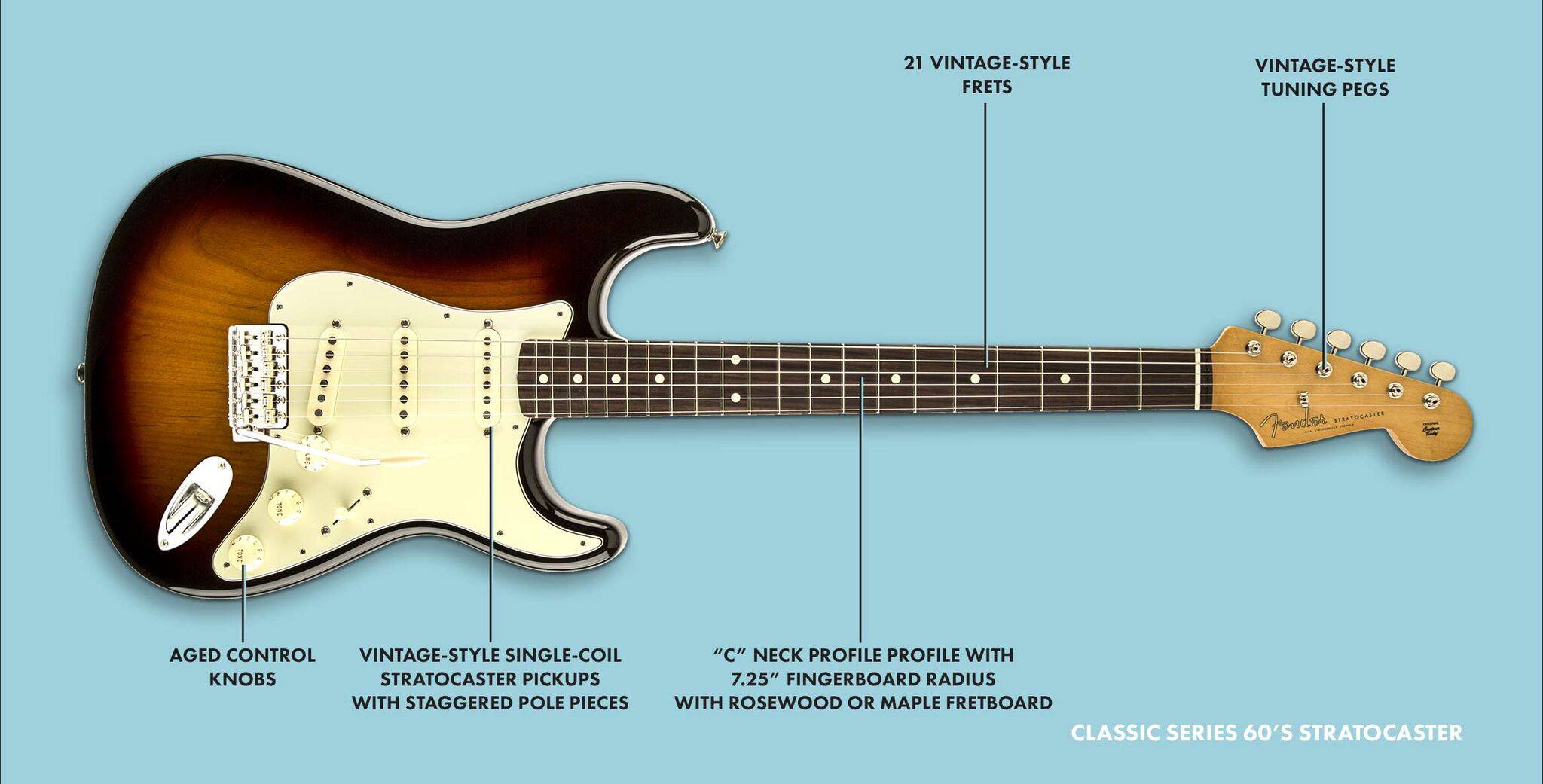 AMERICAN SPECIAL STRATOCATSTER
The American Special Stratocaster puts U.S-made Fender quality into the hands of players at any level. For the guitarist who wants a combination of timeless Fender style and contemporary features, this guitar delivers traditional Strat design with some extra elements for modern tone and performance, including Texas Special pickups and special circuitry, modern neck profile and fingerboard radius, and more. Great sounding, great looking and feeling, and made in the United States.
Texas Special Single-Coil Pickups

"Greasebucket" Tone Circuit

Vintage-Style Synchronized Tremolo Bridge

Large, '70s-Style Headstock

Jumbo Frets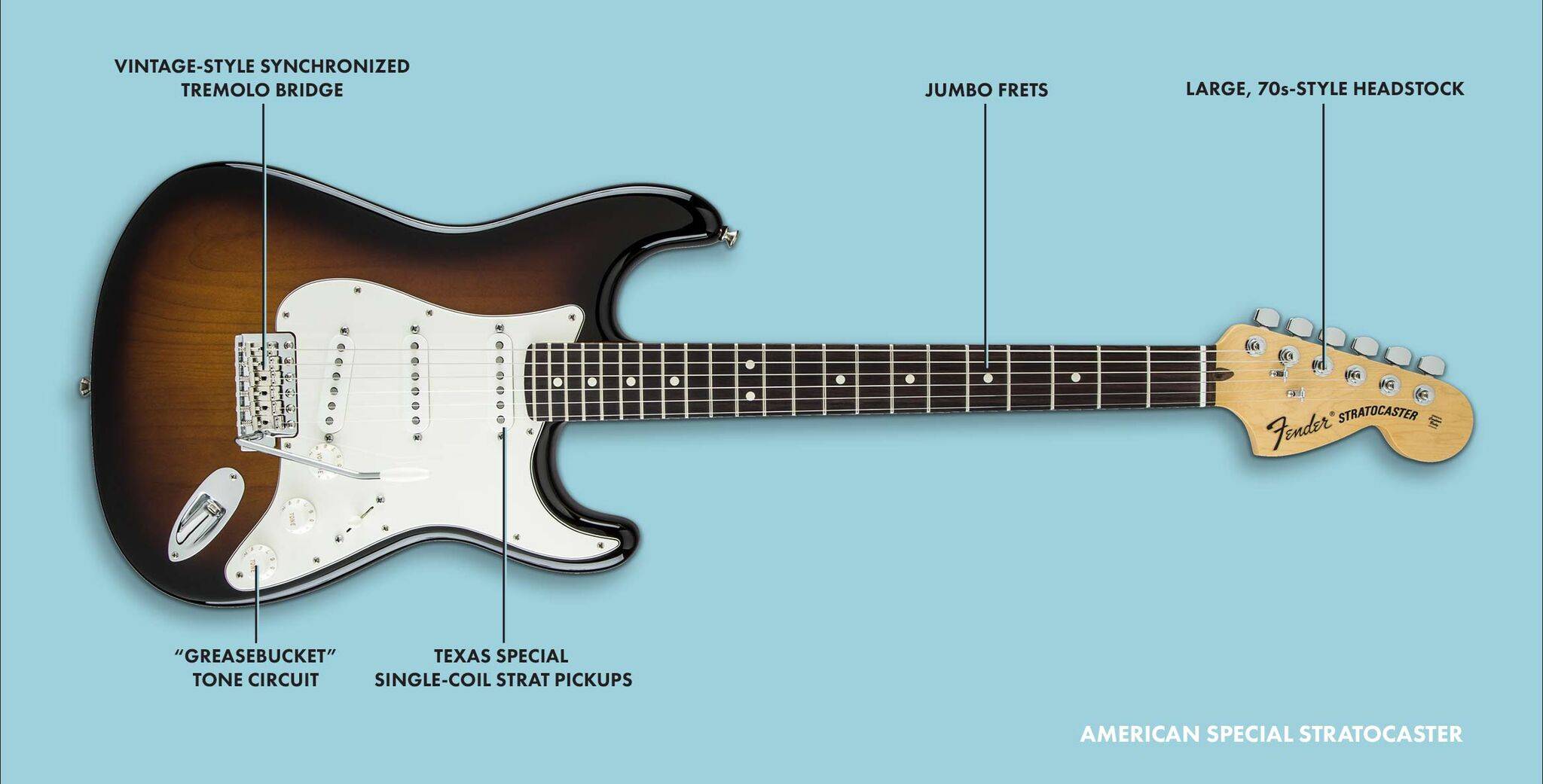 AMERICAN PROFESSIONAL STRATOCASTER
Often copied, but never surpassed, the Stratocaster is arguably the world's most-loved electric guitar. Electrifying the music world since its debut in 1954, its natural, versatile sound made the Stratocaster the benchmark for exceptional guitar tones. The American Professional Stratocaster isn't a re-imagining of the classic design; it's the authentic original model, evolved.
Newly Designed V-Mod Pickups

Treble Bleed Circuit

Deep "C" Neck Profile

Pop-In Tremolo Arm

Bone Nut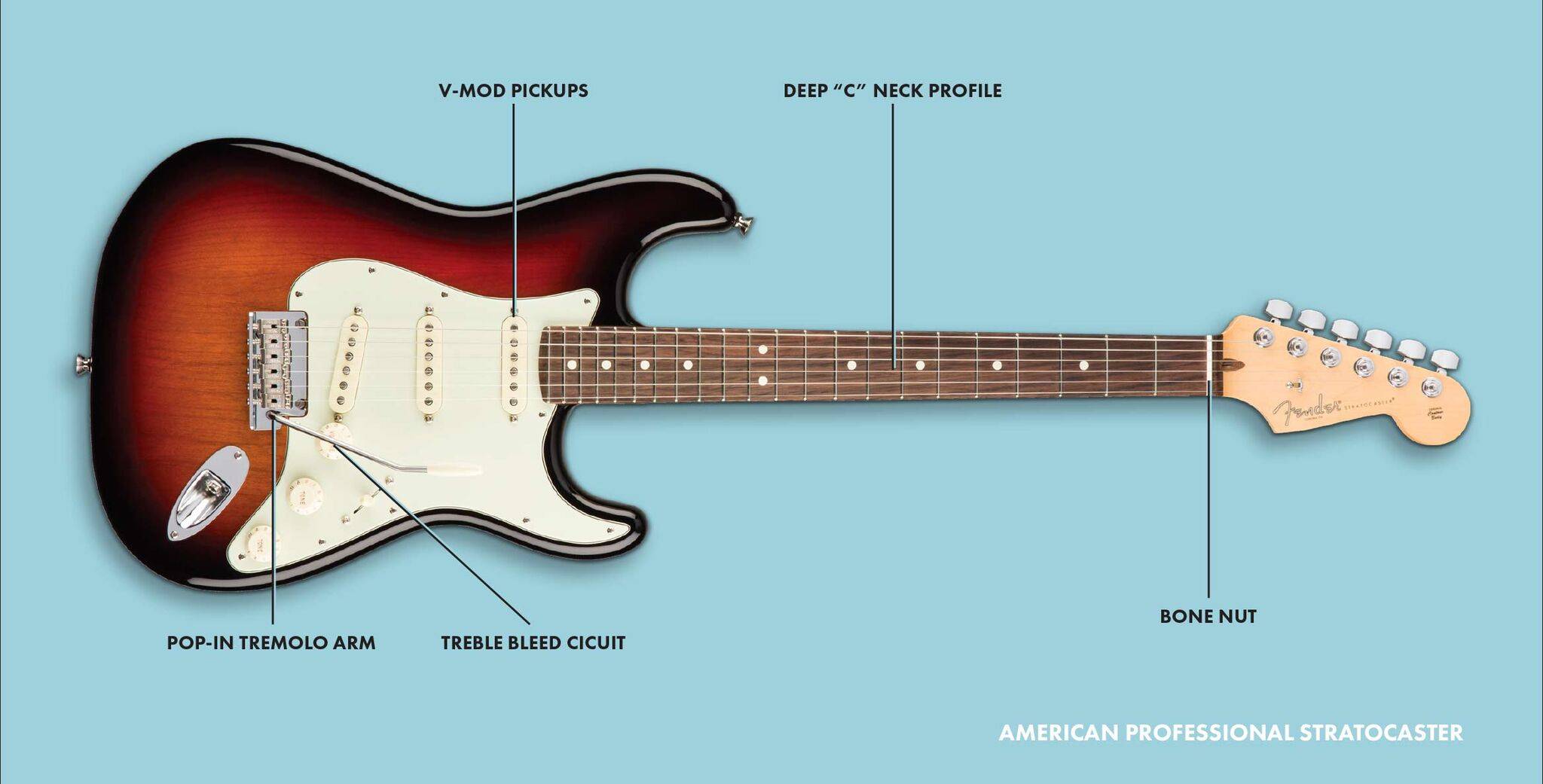 AMERICAN ELITE STRATOCASTER
Externally the American Elite Stratocaster has Fender's timeless style, but under the hood it's an entirely new breed of guitar designed for 21st-century players who constantly push the envelope. With over a dozen new innovations, each guitar is a true performer with eye-catching style, exceptional feel and versatile sound from the very first moment you plug it in and play.
4th Generation Noiseless Pickups

S-1 Switch — Offers five additional pickup configurations

9.5"-to-14" Compound-Radius Neck

2-Point Deluxe Synchronized Tremolo With Pop-In Arm

Double-Action Truss Rod Adjustment Wheel

Locking Tuning Pegs

Soft-Touch Controls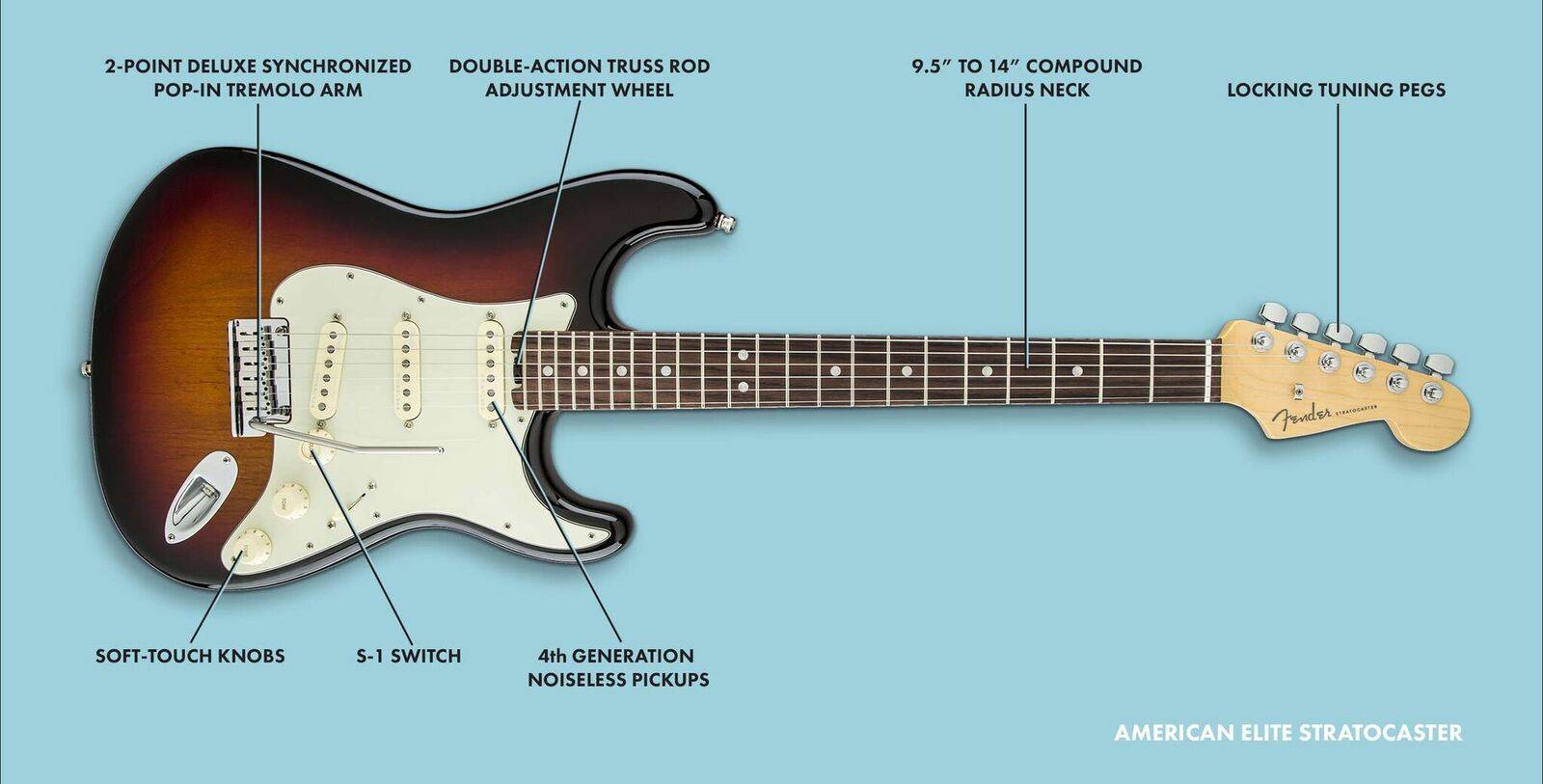 AMERICAN VINTAGE '65 STRATOCASTER
For the guitarist who craves pure vintage Fender style, the American Vintage series presents original-era model year guitars built with meticulous attention to accurate detail that bring Fender history and heritage to authentic and exciting new life.
Relive the sound and spirit of 1965 with the American Vintage '65 Stratocaster. Smack in the middle of one of music's most electrifying decades, the Stratocaster in 1965 was an instrument on its way to becoming rock's greatest electric guitar. Built with original tooling and based directly on actual 1965 models we tracked down, this U.S.-made guitar returns you to a pivotal period when the Strat was poised to soar to phenomenal new heights.
American Vintage '65 Gray-Button Single-Coil Pickups

6-Saddle American Vintage Synchronized Tremolo

"Mid-'60s C" Neck Profile

"Round-Lam" Rosewood Fingerboard

21 Frets

Flash-Coat Lacquer Finish

3-Ply Pickguard With Vintage Bevel

Bone Nut

Aged White Plastic Controls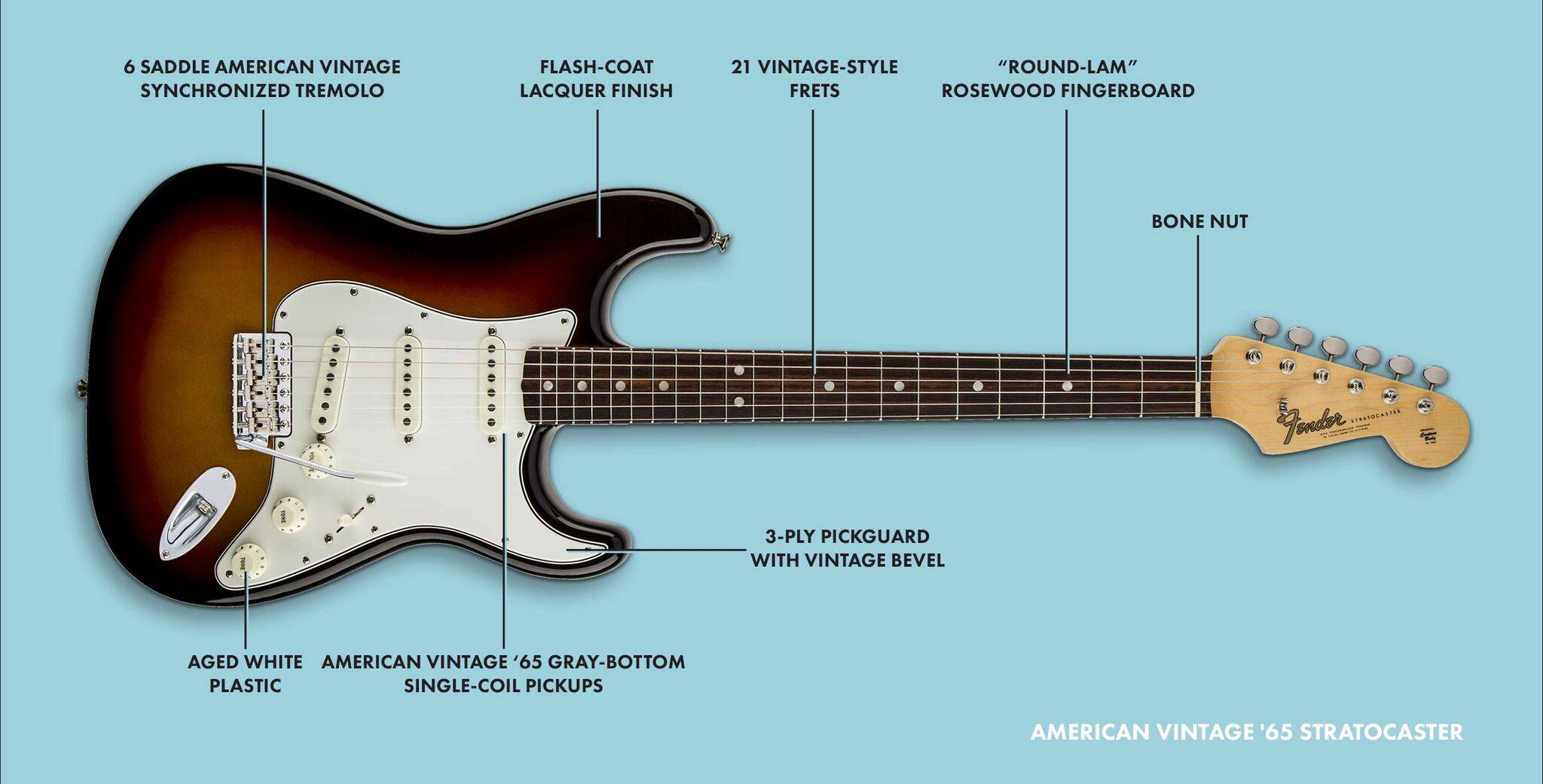 "SO, WHAT STRATOCASTER SHOULD I BUY?"
That's up to you! What thrills one set of ears may not thrill another. What one player loves about one particular guitar might be a show-stopper for someone else. That's what makes each and every Fender so unique and personal. Get acquainted with the basics and then head to your local guitar retailer to find yours!
-By Jeff Owens and Adam Brent Houghtaling
At Fender