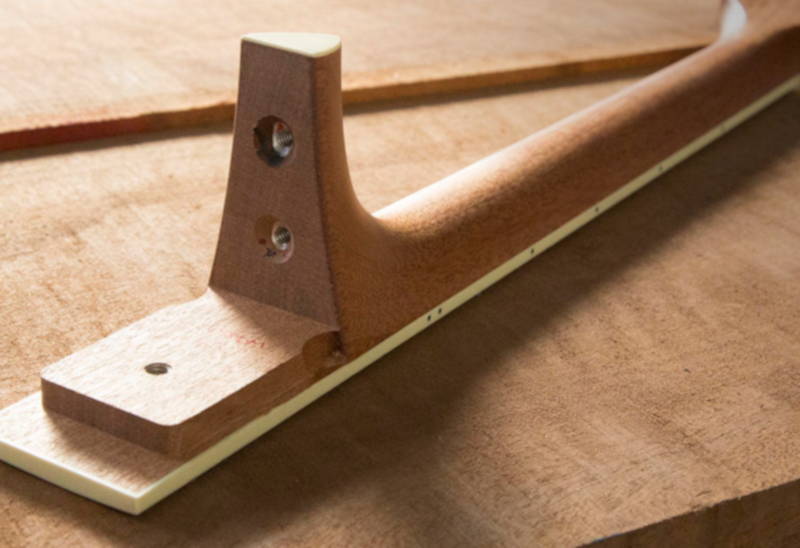 The Taylor Neck
Introduced in 1999 and a standard feature on Taylor guitars since 2001, the patented Taylor guitar neck was designed by Bob Taylor and his team to accomplish the primary goal of building a straighter, more stable guitar neck. While some guitar necks may bend in the face of humidity and other factors, the Taylor guitar neck stays stable and straight.
Don't all guitars have straight necks? The answer is often yes, but the real question is will they stay that way?
Since its inception, the acoustic guitar had a major design flaw. The fretboard lacked sufficient support to remain truly straight because of top movement caused by changes in humidity. All guitars experience this phenomenon, often resulting in a slight bump at the 14th fret, but not all guitars respond to it in the same way.
The Taylor guitar neck is built from a continuous piece of wood that supports the ebony fretboard all the way up to the 19th fret. Traditional guitar necks lose that support at the 14th fret, relying instead on a "floating," unsupported fingerboard extension that's glued directly to the constantly-moving top. As a result, other guitar necks may bend, literally hinging at the 14th fret. But the Taylor guitar neck remains perfectly straight and stable.
The Taylor guitar neck sits securely in a custom-fit pocket that is inset with laser-cut spacers. There's a perfect guitar neck angle for each Taylor, and their precision spacers create it. We're talking about measurements in the thousandths of inches. The NT design ensures that every Taylor guitar neck is straight, the action is where it's supposed to be, and the intonation is accurate.
Adjustability is another major advantage of the Taylor guitar neck. Since the neck angle is created by spacers and requires no glue, adjustment simply requires a repair person with a new set of spacers and about five spare minutes. Altering the guitar neck angle of a traditional neck assembly can require invasive surgery to remove wood and relocate the bridge.
In 2019, the release of Taylor's new Grand Pacific Builder's Edition guitars brought a new neck profile to the Taylor lineup, a compound carve that moves from a gentle V shape to a shallower, rounder curve near the body. This neck features the trademark adjustability of the Taylor design, made even more comfortable to play with a profile that compensates for how the player's hand must adjust when playing at different spots on the fretboard.
The bottom line: The Taylor guitar neck gives you the industry's most stable, easy-to-adjust neck and remains the gold standard for playability.