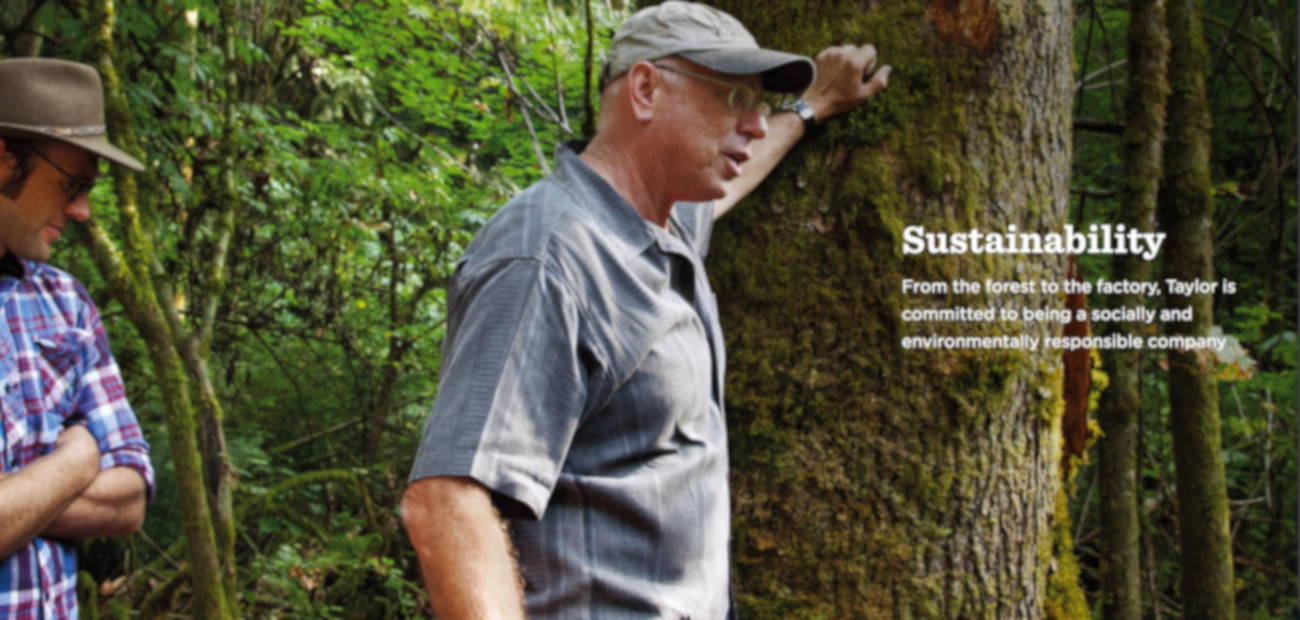 Sustainability
Many of the woods traditionally chosen to make acoustic guitars are under pressure due to a range of factors, including rising global consumption patterns and land conversion, and too often in many parts of the world, a lack of good governance.
As Taylor Guitars has evolved into an industry-leading guitar company, they have traveled the world to learn more about the realities of sourcing wood, from different forest management practices to the communities that rely on forest resources for their livelihood. As a company that uses forest resources, Taylor understands our responsibility to be a good steward, a good partner, and to operate in a transparent, legal and ethical way. As a result, they are striving to become more directly involved in the sourcing of many of the tonewoods they use.
Taylor's Work in Cameroon and Hawaii
Taylor's two flagship initiatives are in Cameroon and Hawaii. In Cameroon, Taylor is the co-owner of the Crelicam ebony mill in Yaoundé with our partner Madinter. Taylor has worked to transform the mill through creating better working conditions, transferring technology, increasing in-country value-added processing, and constantly striving for greater efficiencies to make more from less. In 2014 their efforts were recognized by the U.S. State Department, who honored Taylor with the Award for Corporate Excellence for their work in Cameroon. The award recognizes U.S-.owned businesses that play vital roles around the world as good corporate citizens in supporting sustainable development, respect for human and labor rights, environmental protection, open markets, transparency, and other democratic values. Moving outside the walls of Crelicam, Taylor has also partnered with The Congo Basin Institute to fund The Ebony Project, which conducts basic ecological research on West African ebony and has a goal to plant 15,000 trees.
In Hawaii, Taylor Guitars has been sourcing koa via Paniolo Tonewoods, a partnership set up with Pacific Rim Tonewoods. Since 2015, Paniolo has worked with innovative landowners whose holdings include large areas of pastureland as well as residual stands of trees. Paniolo Tonewoods harvests dead, dying and malformed trees that were stunted from cattle grazing, or were simply in decline, to make guitars. The wood from these trees has become thousands of guitars and thousands of new koa has been planted. Taylor's reforestation and restoration efforts are in their infancy, but Paniolo has made progress in developing elite lines of koa, or cultivars (short for cultivated varieties, and in this case the product of selective koa breeding) that will be especially suitable for instruments. Paniolo's reforestation efforts got a jump start in 2018 when Bob Taylor purchased a 565-acre tract of rolling pastureland on the Big Island, which will be leased to Paniolo. Paniolo intends to reforest this land with koa and other native species, but with a special emphasis on growing wood for guitars.
Responsible Manufacturing
Back home, Taylor's manufacturing innovation has helped lighten our footprint on the environment. This means applying the same innovating thinking that drives Taylor's guitar-making refinements to develop better, smarter ways to use natural resources, reduce waste and promote greater efficiencies. In the 1990s, Taylor developed an environmentally friendly polyester guitar finish that doesn't contain volatile organic compounds (VOCs) that are present in the nitrocellulose lacquer finish commonly used on other guitars. By changing specifications for their guitar necks and introducing their patented Taylor Neck design, they've not only created a more stable, playable guitar neck, but also increased the number of necks yielded by each tree harvested by about 50 percent. Taylor also has undertaken a major recycling effort across all levels of the company. For example, much of the scrap wood and sawdust are converted into particleboard and mulch, while other pieces are donated to a local woodworking association to be transformed into toys for orphans in Tijuana, Mexico.
Taylor takes responsibility seriously, and they want customers to feel assured that when they purchase a Taylor guitar, they are supporting an ethical business. Taylor is always striving to learn more and to get better. Sustainability is an ongoing journey.