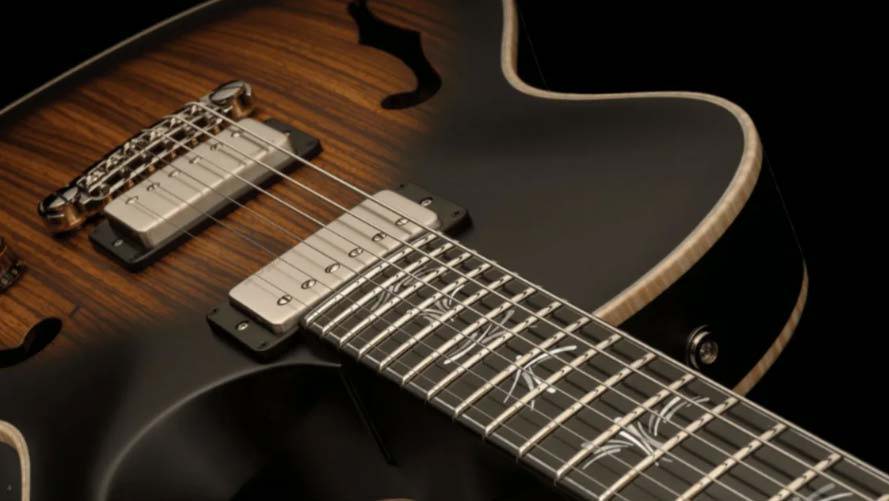 "There's something magic about guitars because they are simultaneously musical instruments,pieces of art, tools to joyfully spend time with, and treasured possessions. The goal of Private Stock is not only to create the most beautiful and best plating guitar money can buy, but the best sounding. If you decide on a Private Stock guitar, we will give everything we have to make it the best instrument you've ever experienced"
-Paul Reed Smith
"I love being a guitar maker because I get to be a designer, painter, and sculptor. Every day I collaborate with people who share passion for craft, and we challenge each other to find the ideal balance between form and function. We always test ourselves against the past while looking ahead for new possibilities."
-Paul Miles (Director of Private Stock)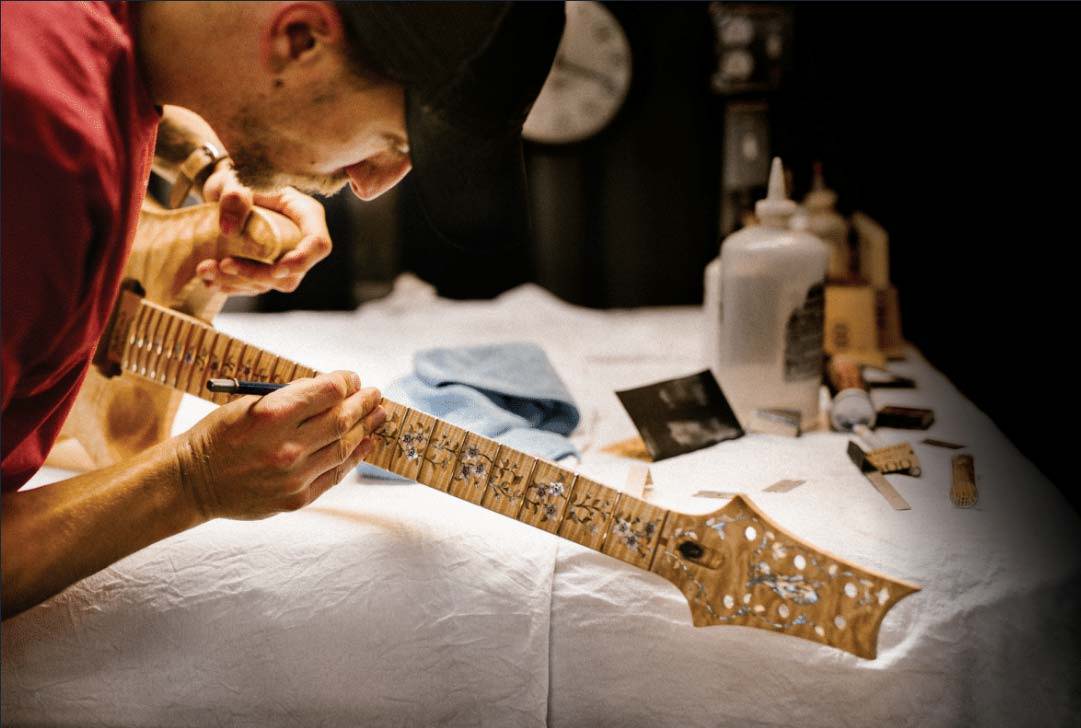 FROM IDEA TO REALITY
You know what you want. a limited Edition or one-off piece has caught you attention, or you have a spec sheet drafted for your built-to-order Private Stock. If you haven't already, now is the time to find a Private Stock dealer. Our exclusive network of Private Stock dealers is here to exceed your expectations of what guitar buying can be. They will help you acquire a Limited Edition piece, work with the PRS inside team to quote your built-to-order instrument, or you can visit The Private Stock Valt with them for a truly unique experience.
If you have chosen a build-to-order guitar, your instrument is now in the hands of our Private Stock builders. The Private Stock team represents the pinnacle of PRS craftsmanship. To celebrate that distinction, your Private Stock will be given a unique PRivate Stock number and will be signed and personally inspected by both Paul Reed Smith and Paul Miles, the Director of the Private Stock team. Once your instrument is complete, it will ship to your dealer.
And the long wait is over. You now have an heirloom, a work of art, and a piece of Private Stock history. We are confident you will have a great sounding and playing instrument for life or longer.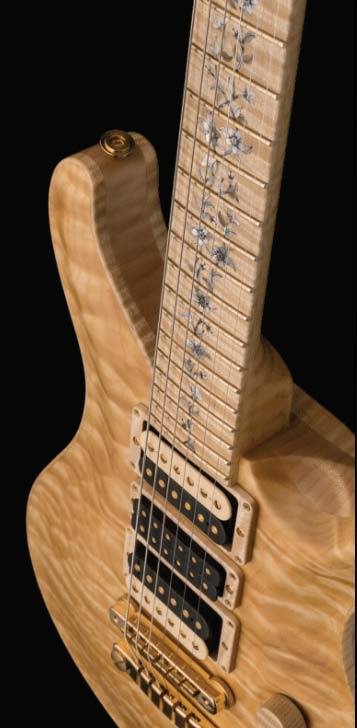 ---

BUILT TO ORDER
ONE-OF-A-KIND
Private Stock's Built to Order program is you opportunity to create the guitar of your dreams. Start with your favorite PRS model platform, and choose your woods , inlays, inlay materials, finish, case, and more to make your one-of-a-kind guitar. No matter what specifications you choose, your Built to Order Private stock instrument will be personally crafted with unparalleled attention to detail, using the highest quality materials PRS offers.
A TRULY UNIQUE EXPERIENCE
The Vault is a truly unique experience, a room that embodies what a private stock is all about. Created to enrich the Private Stock experience, The Vault houses all of the exquisite Private Stock woods we collect. Here, our dealers can see, feel, smell, and "tap test' necks, fretboards, necks, fretboards, headstock veneers, tops, and backs to pick out the exact pieces for the order they are placing, this gives them a much better sense of the final instrument.
Private Stock wouldn't exist if the instruments didn't blow away the customer. the Vault is another piece in the process that helps to ensure that outcome.
MASTERS OF THE CRAFT
Chosen for their ability to pay attention to the finest details and teit passion for building the finest instruments, the small ream of Private Stock craftsmen represent the pinnacle of PRS design and execution. By continually pushing the envelope at at every stage of the build, the specialty luthiers see every instrument making is a very personal thing at PRS, and at the end of the dy, every member of the team wants your PRivate Stock to sound, feel, and look its best.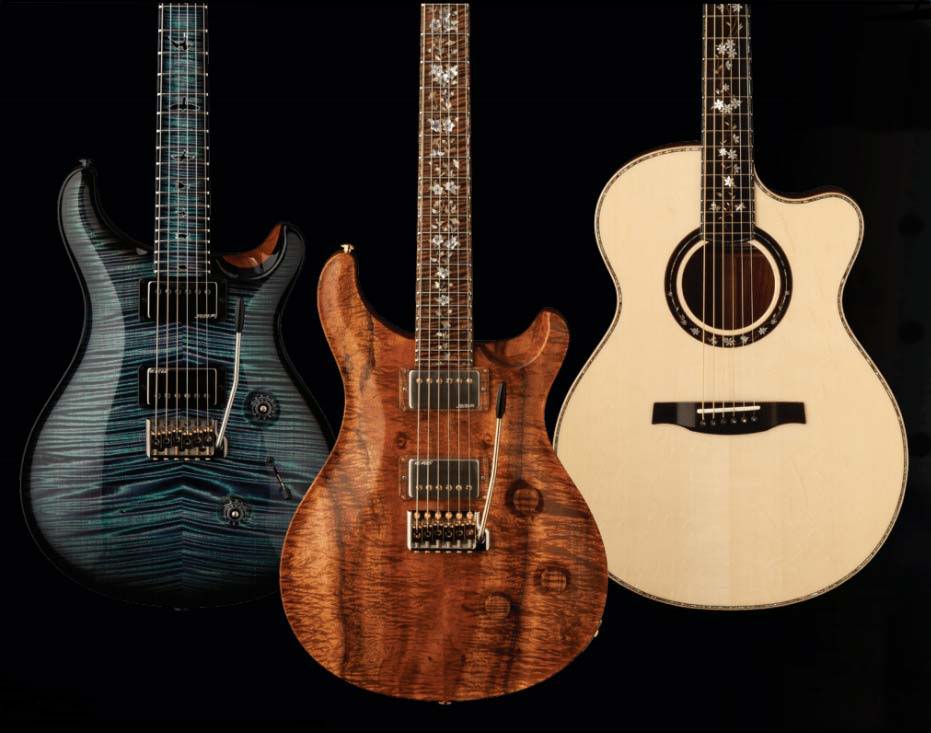 TOP WOODS
Wood is the foundation of every instrument. In the early days of Private Stock, the letters sent out with finished guitars red, "Carefully picked from my (Paul Reed Smith's) private stock for sound and remarkable figure" That is still true today, as all Private Stock woods are carefully housed in "The Vault" just outside of Paul's office. Much like a fingerprint each piece of wood is slightly different in figure, weight, and hue. The woods below are a good representation of the assortment that the Private Stock Vault has to offer. Discover more with your Private Stock Dealer.
Back wood options may vary.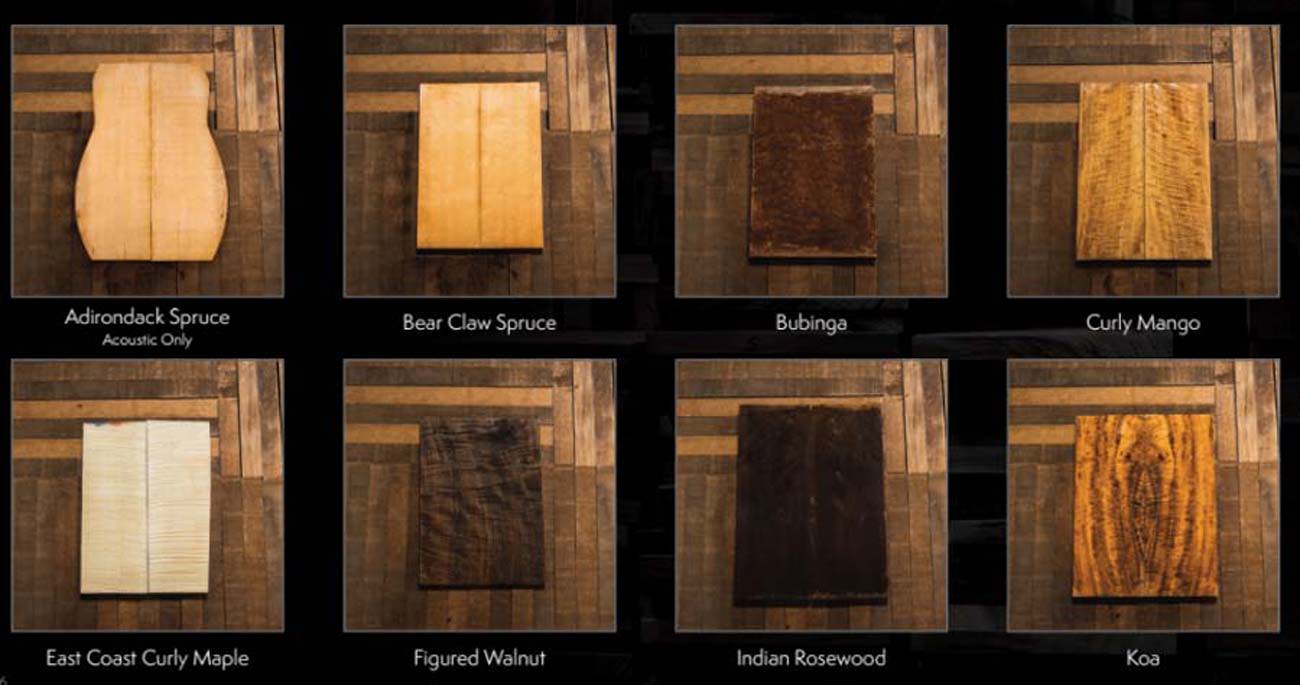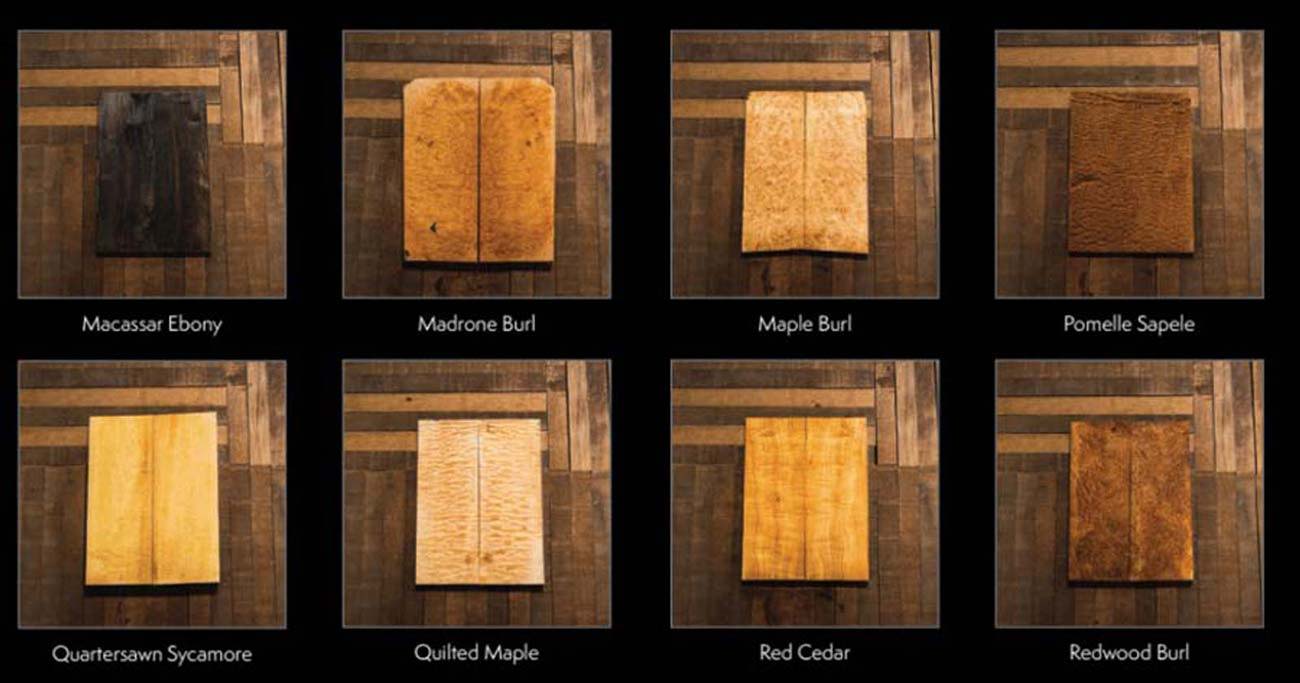 ---
NECK AND FINGERBOARD WOODS
Private Stock neck and fingerboard options include a wide variety of exotic and highly figured woods sourced from all over the world. Much like the body wood options, these woods are chosen for heir sound and remakable figure to add to the uniqueness each Private Stock guitar offers. the woods below are a good representation of the assortment that the Private Stock Vault has to offer. Discover more with your Private Stock Dealer.
Options may vary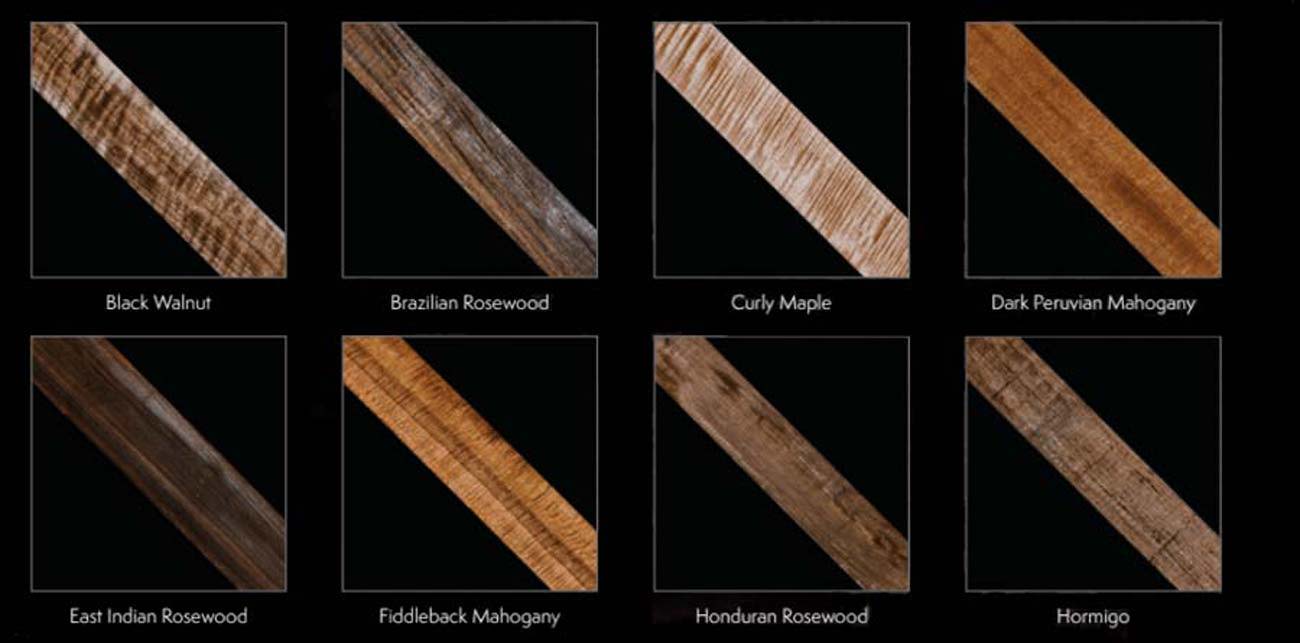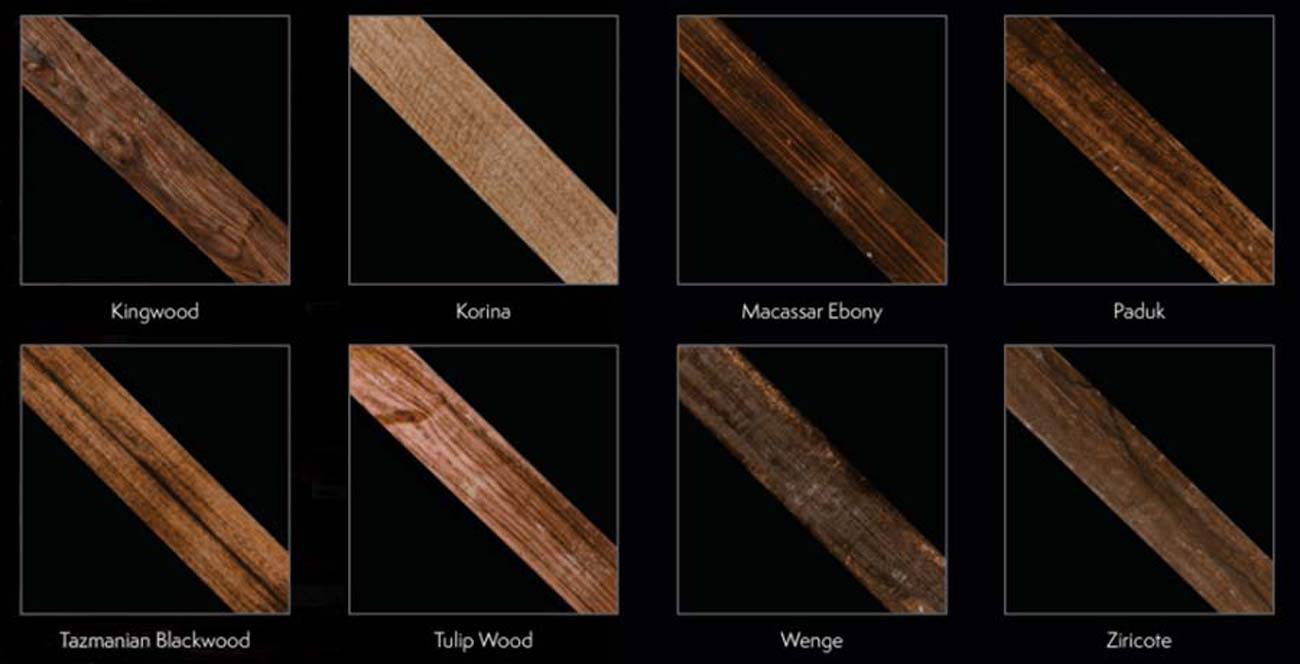 ---
FINISHES
Finish is the moment where an instrument takes on ,uch of its personality. Our finish process is proven to highlight the elegance and figure of the woods you choose, whether that means a subtle, natural finish or a striking, vivid color. Finish options are nearly infinite, but we have catalogued a selection here to get you thinking. you can choose from the options below, send a photo for us to color match, or simply describe your desired look. Whatever path you choose, your Private Stock instrument will make a statement. The finishes below are a good representation of the assortment that Private Stock has to offer. Discover more with your Private Stock Dealer.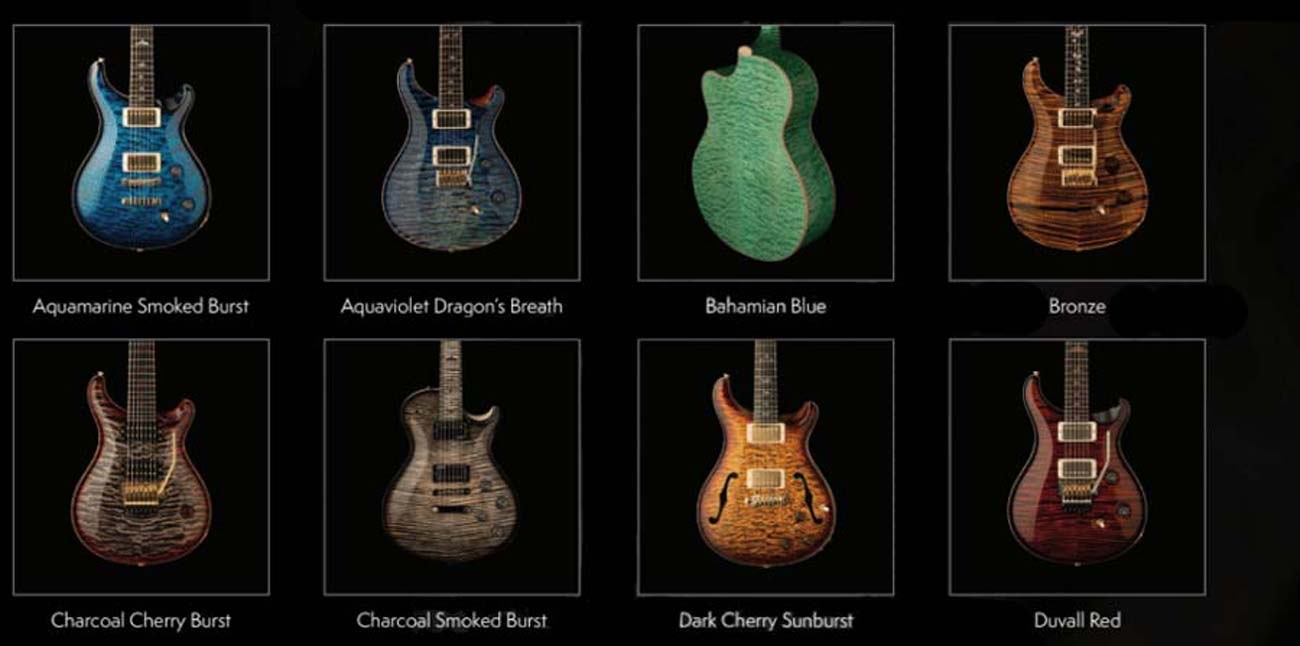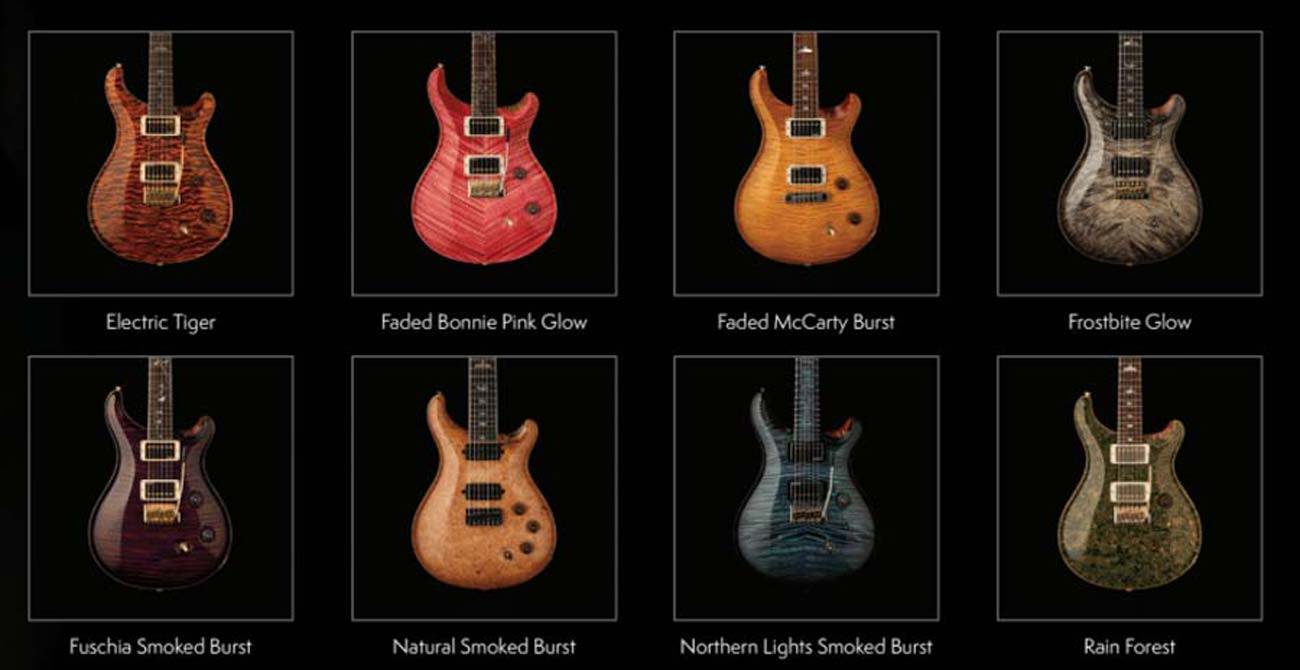 ---
INLAYS
Inlay is another part of the Private Stock ordering process with nearly infinite options and combinations from the design itself to the materials used, inlays are a way to personalize your instrument. There are several materials to choose from and designs ranging from intricate vines to the traditional PRS bird inlays and more. Look around and get inspired by the material choices below. the inlays below are a good representation of the assortment that Private Stock fas to offer. Discover more with your Private Stock Dealer.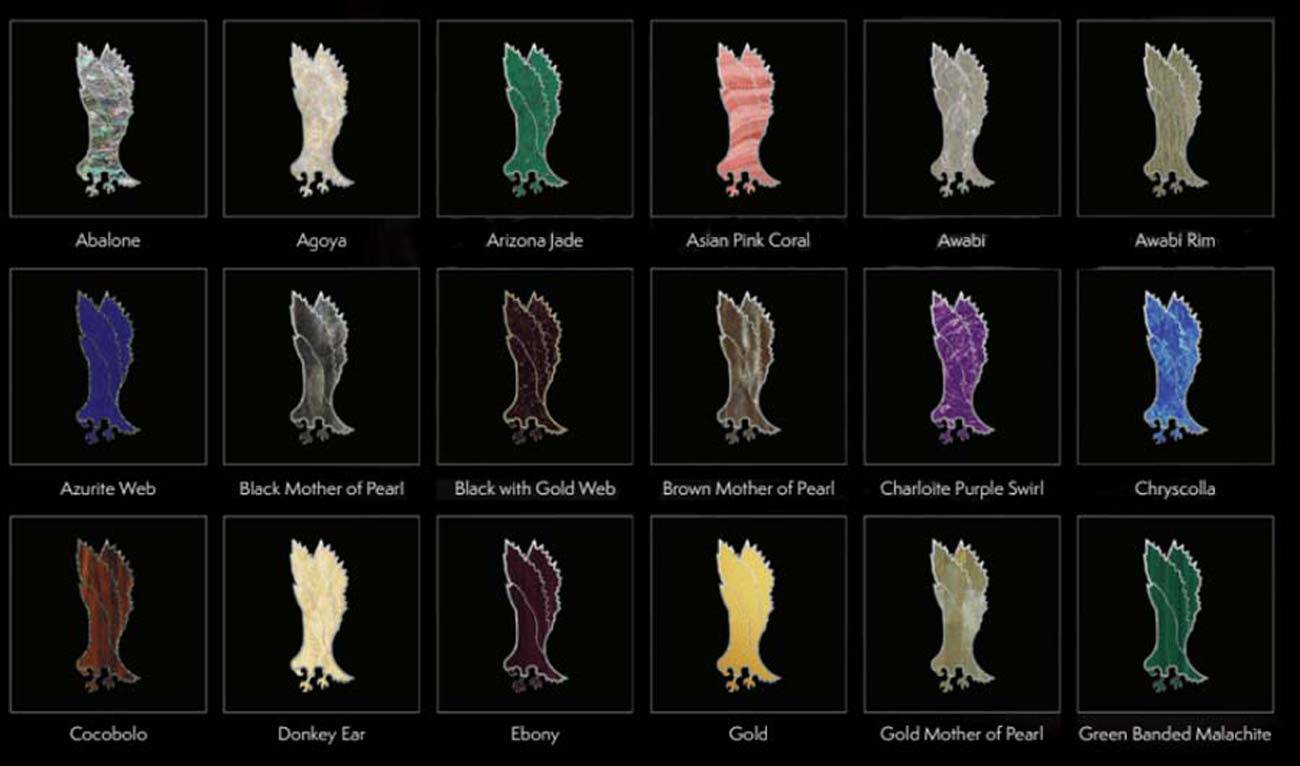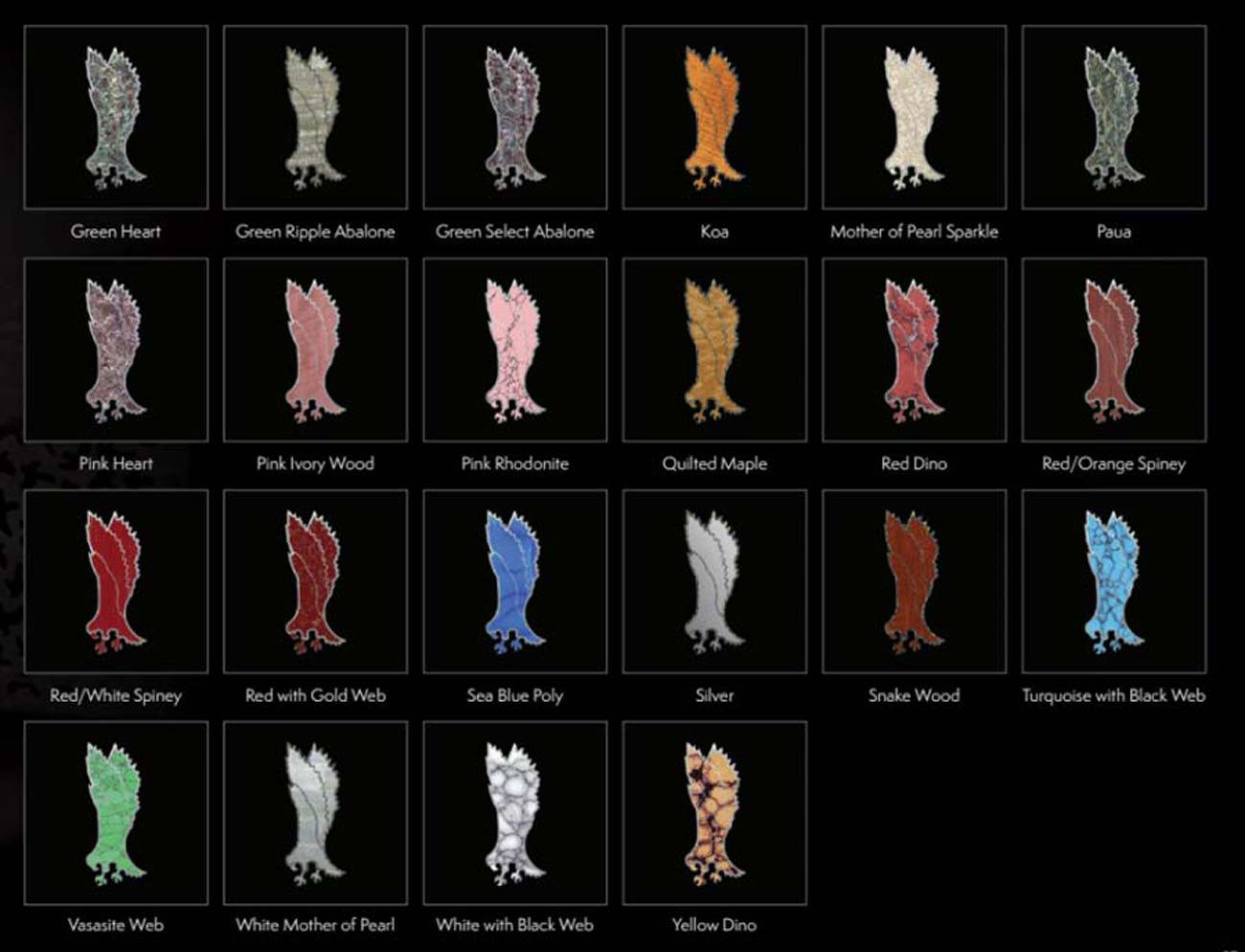 ---
CASES
You have designed your perfect instrument- now dress it up in style. Whether you want to compliment your inlay material with your piping choice or sport a sparkle case, the private Stock program allows you to configure several elements of your guitar case, including the interior, the tolex/twee, the endcap binding the piping, and the hardware. the cases below are a good representation of the assortment that PRivate Stock has to offer. discover more with you Private Stock Dealer
Options may vary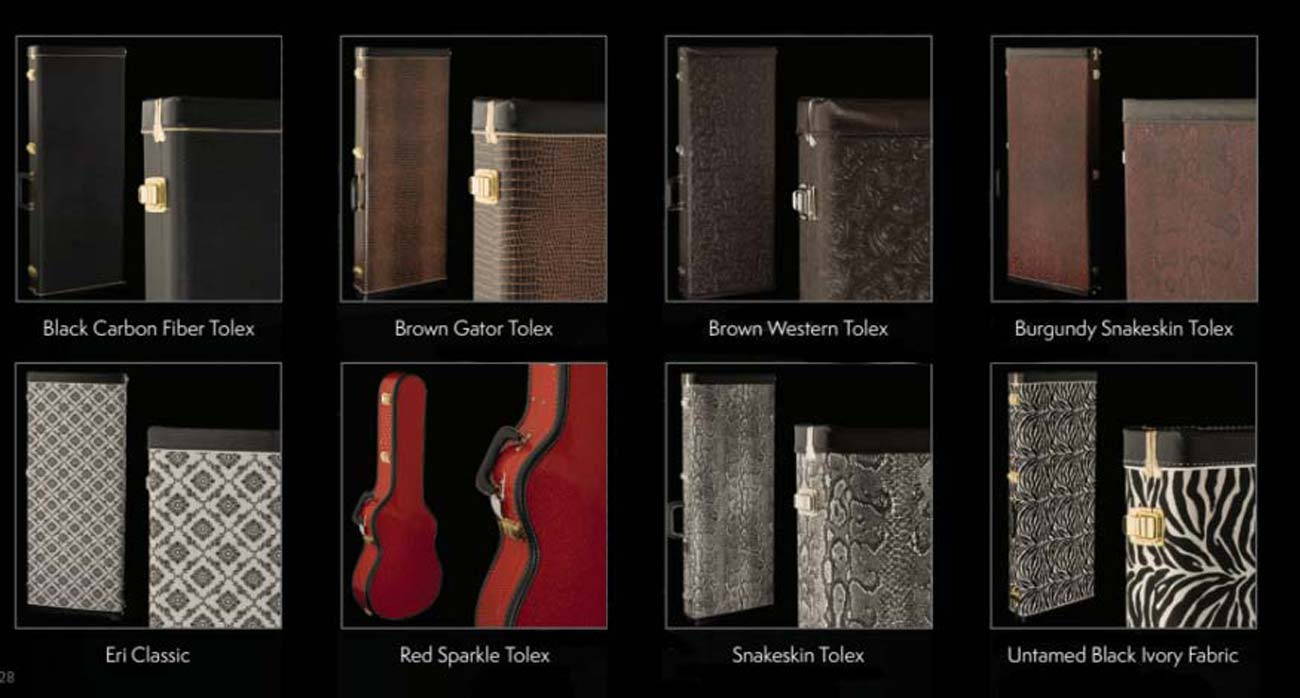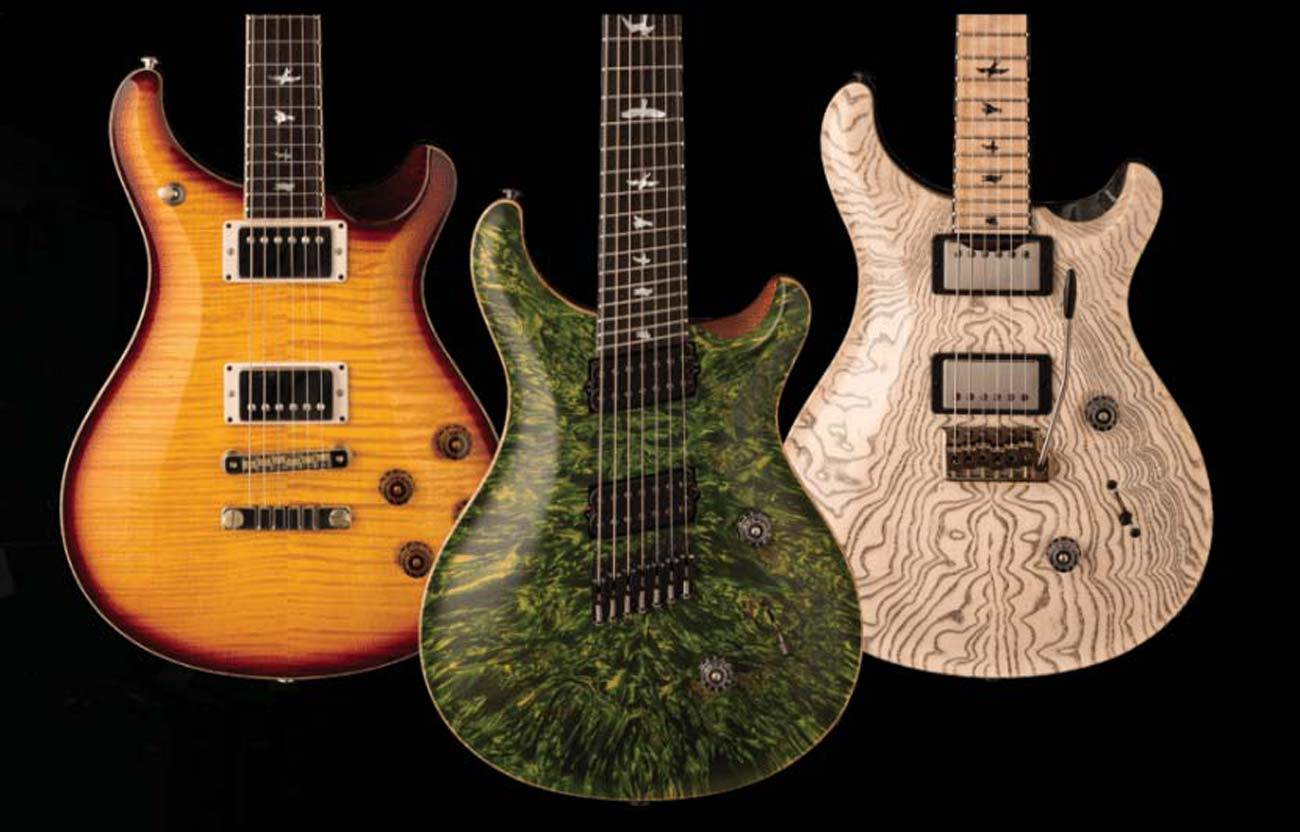 STAY INSPIRED
Curions about Private Stock-Designed Limited editions? Have an idea for your perfect instrument? Need more inspiration? Visit the PRivate Stock Gallery section of the PRS Guitars website to see recent builds and find more ideas for your one-of-a-kind Private Stock. While you're down there, download our order form guides and browse the list of Authorized Private Stock dealers.